Dear All,
As some of your will be aware Lightbox Theatre is currently engaged in an intergenerational theatre project called Battersea Stories to discover stories about local people and this area that they call home. This project is funded by big local SW11.
Since October 2013 we have engaged local residents in the project through interviews and workshops in various community settings.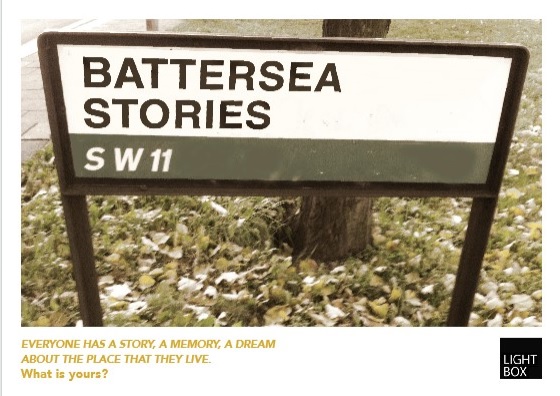 We've asked people of all ages about their memories, experiences and dreams for Battersea and the aim is to create a professional community show from these stories at the end of 2015 that celebrates local people and the area as it undergoes regeneration.
As we develop the script, we're keen to keep our participants engaged and also discover new stories. To that end, and with the support of Big Local, we are holding an informal sharing of our work at Katherine Low Settlement next Thursday 16th October and we would love to invite you and your organisations.
The sharing will take place at 16.30 and 18.00 and involve a short presentation of some of the material by professional actors and there will be a chance for local people to hear more about the project and find out how they can contribute stories and participate in our future show.
Please find attached an e-flyer with all the details. If you could spread the word to your groups and associates, it would be greatly appreciated.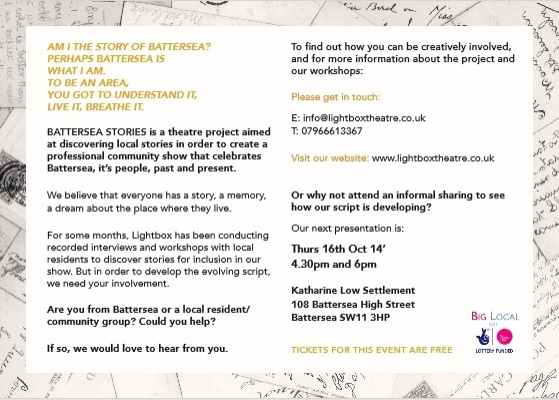 Moreover, as we continue to seek stories for inclusion in our show, do let us know if you think that you or your organization would like to contribute more directly. Over the next few months we're continuing to do informal interviews and short storytelling workshops to generate stories so do get in touch if this is of interest.
In the meantime, for more information about the project please refer to the below link to watch our project trailer.