Big Local SW11 is one of a number of provisions of Lottery money to be spent over 10 years in areas of less affluence. Local residents decide how this money is to be spent thus making a lasting and positive difference to the community.
Once briefed within the school (
the logo must not look as if it is created by a local council, corporate or governmental body)
, 
a group of Year 9 students with a passion for the project created a range of very individual designs over an intense six week period.  The project was led by the Head Stephen Holsgrove along with art teacher Louisa Whitworth and graphics tutor Steve Trimm.
During these six weeks the local resident team became actively involved in the process, visiting the school at the halfway stage to review progress and during the final session, in which the pupils displayed their work and individually presented their concepts verbally to both the resident and Thames tutor teams. The team were particularly impressed by the pupils idea of creating a 'Big Local Scrapbook' a way of co-creating ideas with local residents, young and old, asking them to provide thoughts (written drawn or photographed) of how the local area could be improved. This rich material would be curated by the pupils as a physical repository of local hopes and dreams for the future.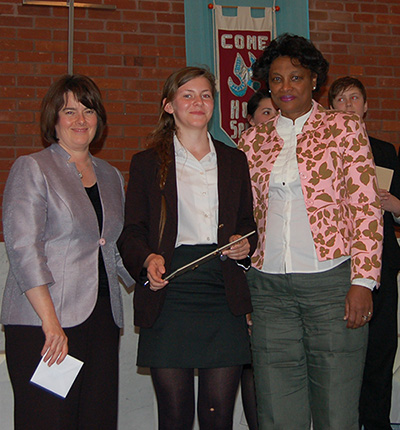 The resident team were highly impressed by the thinking and quality of the output, so much so that they were unable to make a decision on a winner and therefore asked the pupils to present once more to a wider team.  Once again they presented brilliantly at the Latchmere Leisure Centre in Clapham to a 20+ audience, a big ask for Year 9 pupils!
After some interesting debate, pupil Darcie Burns was chosen as the winner, her logo design felt to be unique, distinctive and memorable.
At the recent Thames Awards evening, every pupil involved with the Big Local SW11 project was presented with a certificate and a gift voucher from local MP Jane Ellison. Darcie's work is now finalised, ready for print and will appear as the brand image for Big Local SW11, soon to be seen across the whole area.
Robert modelling our T-Shirt with Darcie's Logo