Big Local SW11 and Christ Church Primary School
Growing Together
Introduction
The aim of the Big Local Growing Together project was to bring the local community together through a range of outdoor activities that focussed on health and well-being. We rallied the community to work together to transform a scruffy area of land into a stunning new learning garden and to open up our Secret Garden for the benefit of local people.
We also wanted to introduce the community to the many benefits of gardening and to offer individuals the opportunity to learn horticultural skills. The culmination of the project was the opening of our stunning new space – the Bee Kind Garden and a calendar of fantastic events which engaged local people from the fire brigade to our local running club, reaching out to young and old people alike.
Building the Bee Kind Garden
This was a hugely ambitious project that could only be fully achieved with support, expertise and funding from a whole community of people. Firstly and foremost we had the unwavering support and help from established Chelsea Gold Medal winning garden designer Cleve West who worked with the pupils to design the garden. His leadership and knowledge were key to creating a space of such high-quality beautiful design.
The school's Garden Project management team also did a tremendous job in raising over £60,000 of funding with £30,000 of this coming from the Mayor of London's fund.
However, much of the hard graft would rely on people power and with the backing of Big Local we set about engaging and connecting with the SW11 local community to find helpers who could offer time and effort to get the project underway and bring the benefits of our garden spaces to all.
In the beginning…
We had a very positive response to our early shout out for help with clearing the grounds and moving some heavy PE equipment sheds.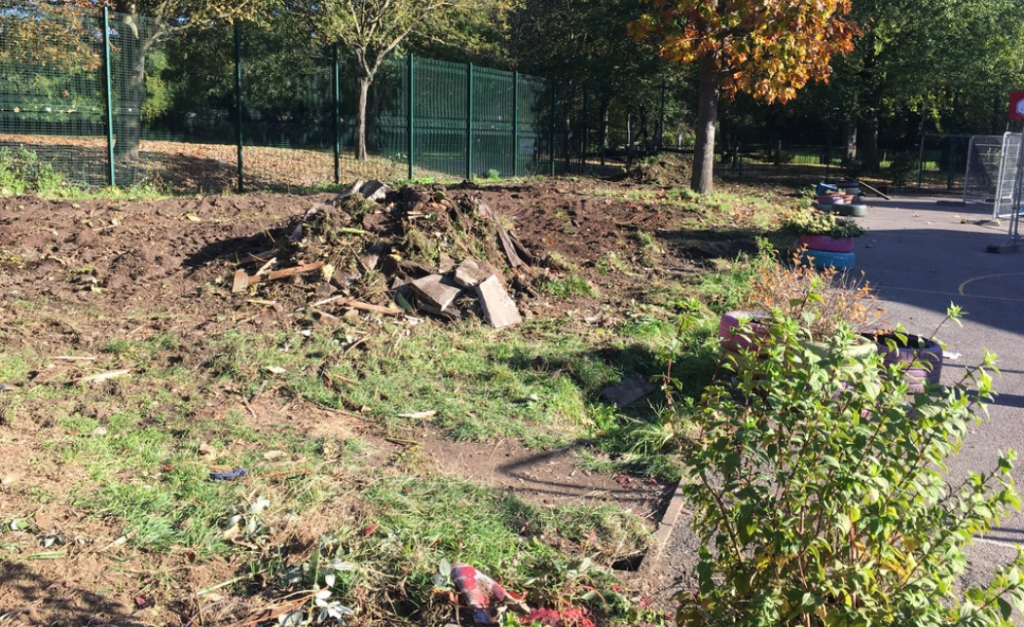 Members of the fire brigade based at our local station came along and helped with the moving of the sheds and in October 2018, 47 Good gym runners ran to the school (with head torches as it was in the evening) and spent several hours clearing the ground for the new garden – and then they ran away again! They have become repeat volunteers and a force for good as they then came back again in January to dig the ground they had cleared; a phenomenal team!
The local runners improved their fitness and stamina and said they really enjoyed participating. They felt a sense of pride and ownership that that they had helped to create the foundations of the new garden. These efforts really pushed forward the preparation of the ground.
Gemma & team from ISG a local construction company cleared away the debris, brambles and bushes which enabled Landscape Associates to then level the ground and start creating the raised beds, apple archway, pond and compost bays.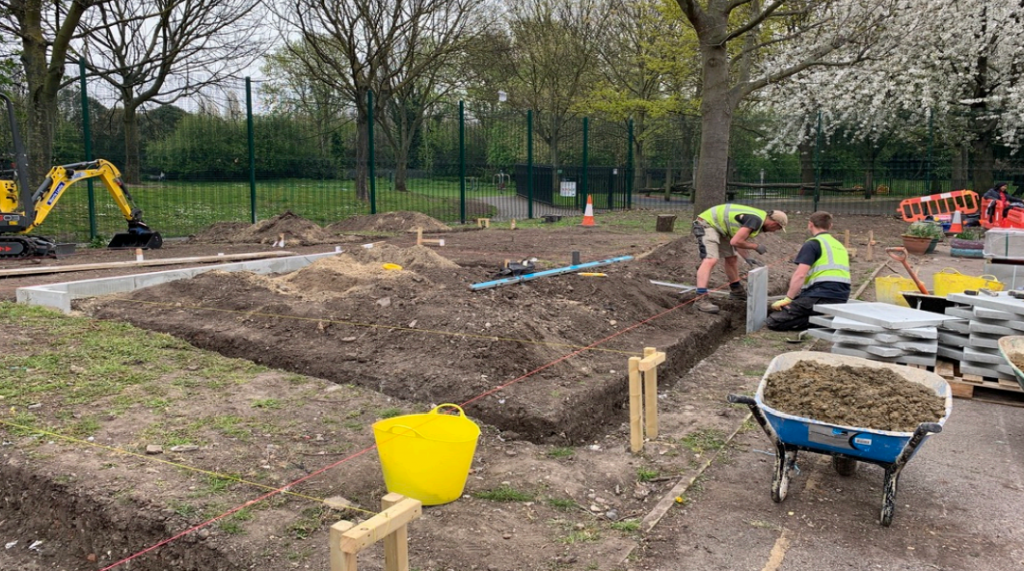 The Royal Parks came in Spring 2019 to create a bug hotel and a wild meadow.
Growing and Nurturing Ourselves and the Gardens
With a more long-term goal in mind we wanted to engage with parents and members of the community who hadn't had much involvement with the gardens before to connect people and establish a sense of a gardening community.
Pupils were already familiar with the benefits of the garden through school time outdoor learning sessions in the school's Secret Garden which is off-site. There was already a very popular after school gardening club which we used as a starting point to engage more community members with the outdoors.
To gauge interest and preference for activities we produced a questionnaire to hand out to parents attending the school's Christmas Fayre and guests at the Community Christmas tea party. We asked them what sort of activities they would like to take part in.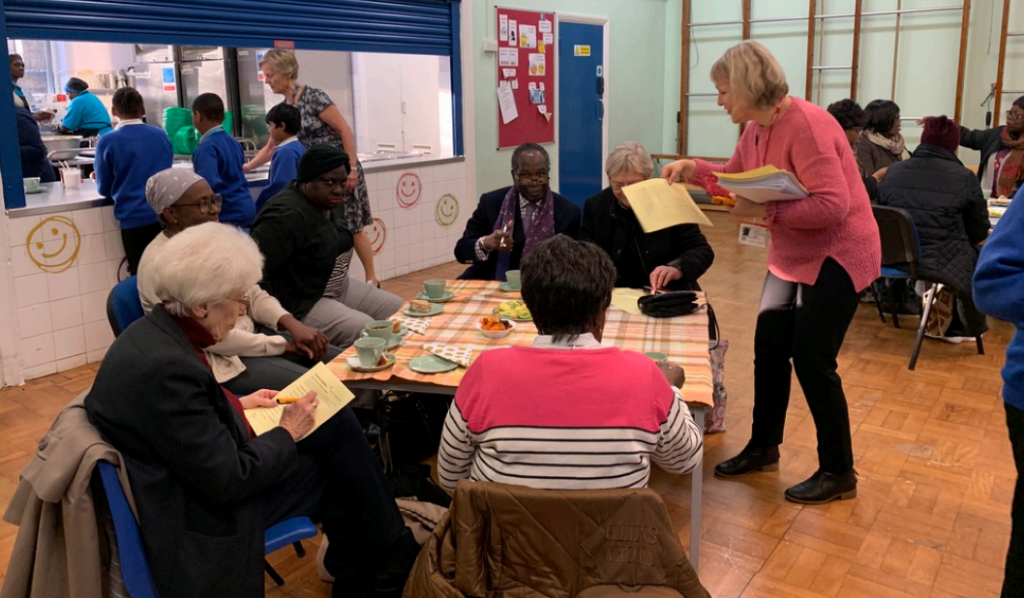 We also met with members of the PTFA and with their help set up a parents' health and well-being meet up group and they also told us what garden activities they would be interested in doing. We used this information to create a programme of events funded by Big Local and NHS that would run throughout the spring and the summer for the benefit of members of the community of all ages and abilities and which would also help with the development and maintenance of the garden spaces.
In February we created our first Growing Together events flyer. This was sent to local groups and charities including Caius House, Providence House, Katherine Low Settlement, Carneys, George Shearing Centre, Women of Wandsworth, Lifetimes, York Garden and Battersea Library.
Growing Together event flyers were posted on the Big Local Facebook page and on the school's website. Individual events were also regularly promoted via twitter and reminder texts to parents and emails to our growing mailing list were sent out in the run up to all of the events.
Below is our diary of activities and events for the spring and summer:
February
• We held the first parents meet up session – participants received a goody bag with health and wellbeing information provided by NHS and community groups and healthy snacks and drinks donated by local businesses
• We attended the Big Local 'Battersea Together' event which discussed initiatives to pool resources to support one another. This was a very informative event and a great way to get to know other groups and learn about other initiatives. Through this event we were able to invite more groups to our garden events.
March
• We invited the children and their carers from Providence House 'after school group' to join our school gardening club to help in the Secret Garden. The children helped with weeding and also planted seeds (salad, spinach or herbs) to take home to grow on the windowsill.
• The following week the school's Gardening Club made a reciprocal visit to Providence House where pupils helped to tidy and weed the raised beds. They also did a litter collection of the local area and took pride in creating a tidy and pleasant space.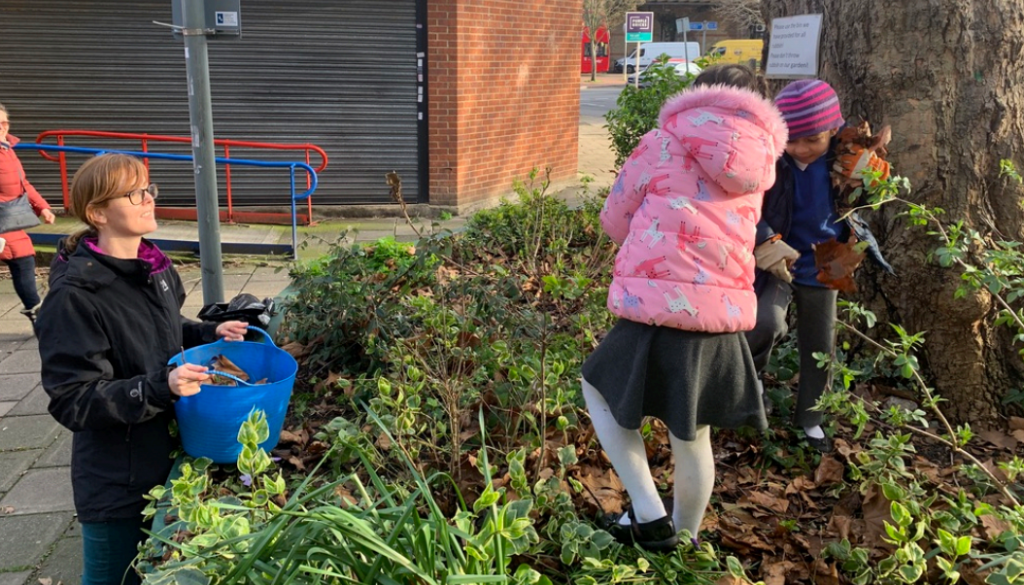 • We held the second Parents' health and well-being meet up where we ran a visual awareness training session. One of the parents at the school had recently lost her sight and parents and staff members at the school were keen to be able to offer her assistance as well as to have this skill to use in the wider community and at work.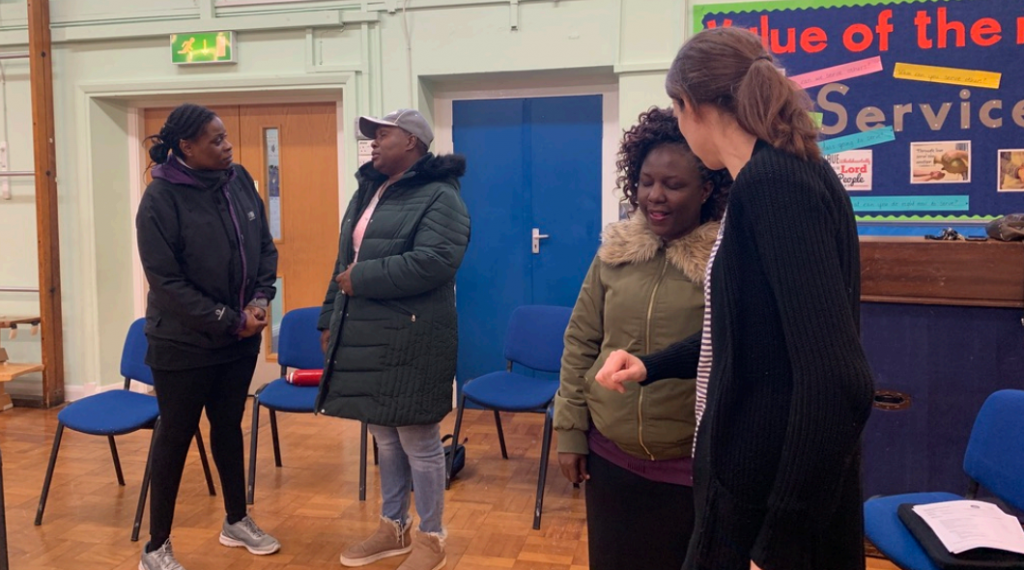 • Storytelling in Secret Garden. A professional Storyteller entertained us for an hour with three stories which included songs and actions – the children thoroughly enjoyed taking part as did the adults! Parents had a chance to speak with each other and to make new connections.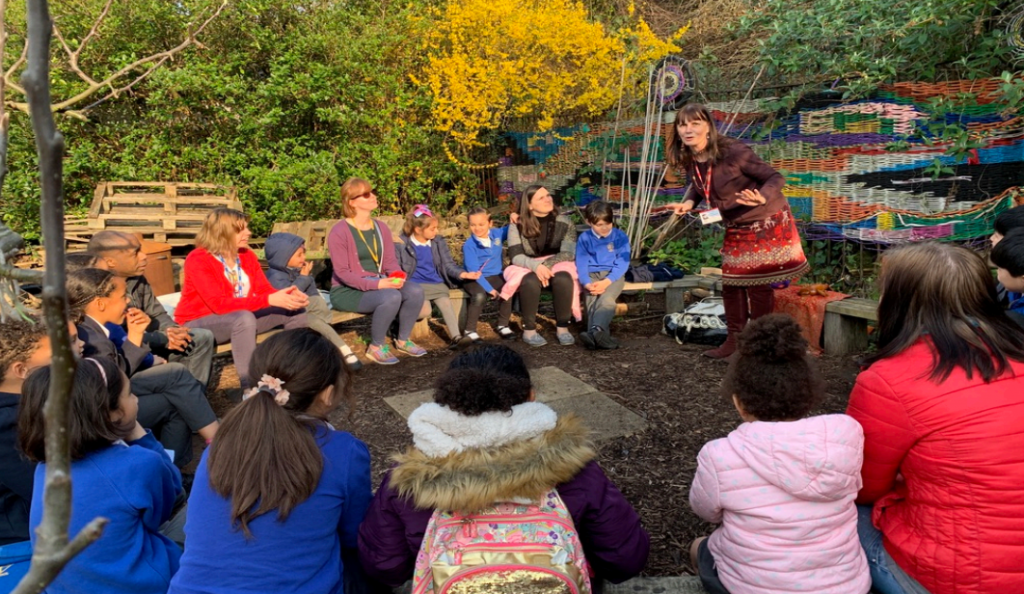 • We created our open-house gardening club sessions which ran every Thursday and invited members of the community to come and join the Gardening club and learn new gardening skills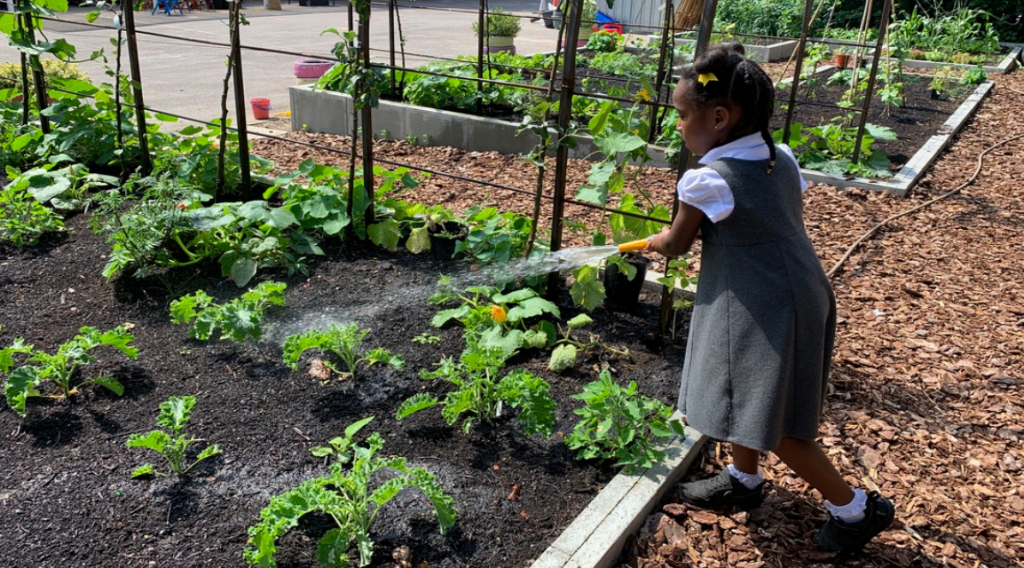 • We offered tours of all the school garden spaces so visitors could see how the new garden was developing and they could learn and be inspired by the all the produce being grown (Christ Church is a Level 5 RHS Gardening School and is the only school to hold Gold Level Accreditation for Learning Outside the Classroom). The tours were run by a parent at the school who had originally volunteered her time to help with the garden club. We provided training to develop her horticultural and public speaking skills and ultimately, we were able to offer her a few hours paid work. This then led to her securing part time horticultural employment with a local charity at a later date.
April
• During the Easter holidays we continued our Thursday open garden sessions and invited visitors to come along and help with gardening tasks. The main produce that could be harvested at this time was rhubarb which some visitors took away with them. There were many discussions on the best way to cook it and recipe tips were exchanged. We continued the 'patio pot' project where visitors (of all ages) could plant seeds to take home and grown on the patio/balcony/windowsill. We also had the voluntary support of a local arts charity – South Island Workshop who showed visitors weaving skills and got them involved in making bird scarers for the garden from re-cycled materials.
• We were delighted to be chosen as a Training Hub with the Capital Growth 2019 scheme which supports people who grow food in London. We delivered training sessions to local trainee teachers on Outdoor Learning in Maths.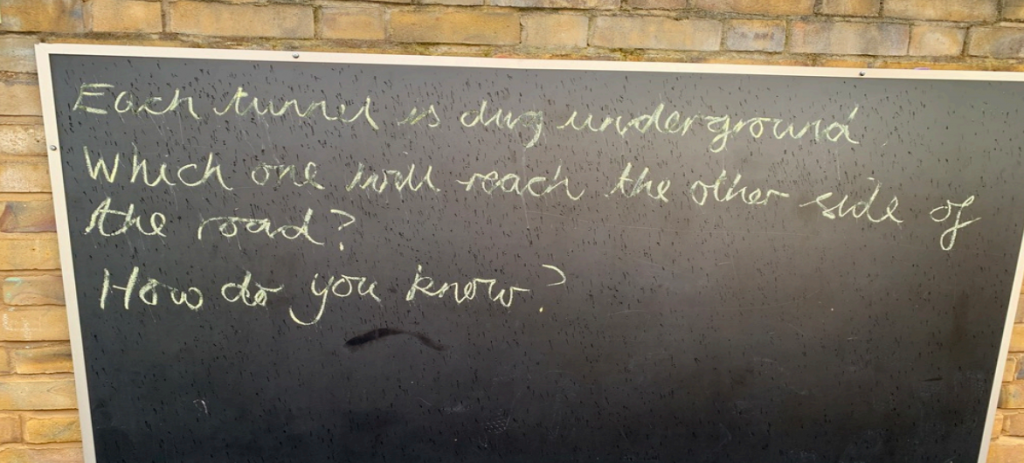 • The Big Dig (Saturday 27 April)
We took part in Capital Growth's annual event the Big Dig which encourages volunteers to get involved with edible gardens in the local community. This was a great opportunity to do some much-needed jobs in the Secret Garden. On the day, despite stormy weather 9 people (adults and children) came along to help out. The event introduced 3 new people to our garden who were very keen to continue volunteering there.
May
• Our regular open gardening sessions continued including during the half term holiday. We found that the holiday garden sessions were really popular as they offered parents an opportunity to keep their children entertained (at no cost!) and to get them outdoors.
June
• We ran another successful Story Telling session with published children's author Margaret Bateson-Hill in the magical Secret garden setting. It proved to be a popular way for adults and children to come together in a relaxed setting and be entertained away from computer games and TV programmes.
• We delivered the second of our training sessions for Capital Growth to trainee teachers in Literacy focussing on 'Garden Tales'.
• We held a special smoothie making session where older and younger people (the youngest was 5 years old) were divided into teams and worked together to make up their own smoothie recipe. The session finished with a vote on the most popular recipe. It was great fun and one parent commented that she had witnessed her son try fruits and vegetables that previously he had refused to eat. She was delighted.
• 27 June Garden party and recipe swap.
To celebrate the great progress that had been made with the development of the new garden and to kick off the big community event of the year the Falcon Road Festival we held a garden party and recipe swap event. This was a resounding success. Parents were asked to make a vegetarian dish that they often eat at home and to bring it to the school to share. We also invited older members of the community to come and join us – this was arranged with the Katherine Low Settlement.
There was so much food from so many different parts of the world and everyone enjoyed trying the different dishes. We set up in the playground and started the event just before the end of the school day.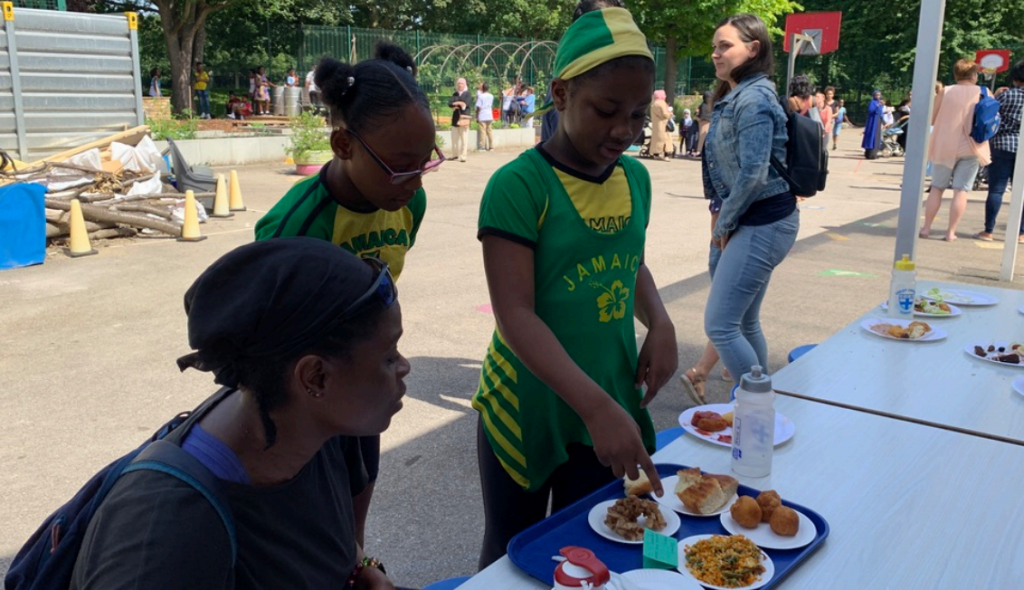 The school's steel pan band provided entertainment and the sun shone against the backdrop of the new garden with its wildflower meadow in full bloom. Parents, relatives and visitors mingled, children played, the older members of the community enjoyed the views of the new garden and heard all about what's been happening at the school.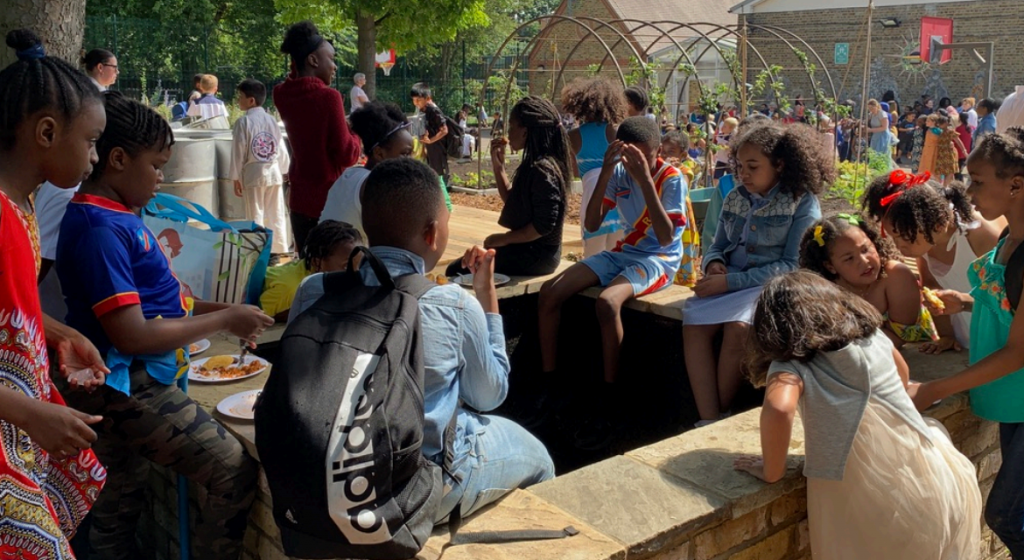 One parent commented that she had for the first time talked to other parents who she had seen at the school gates for months but never spoken to before. A local carer escorted an elderly lady with Alzheimer's. She has since commented that despite the lady being very confused and forgetful, she regularly asks when she can visit the garden again. She had a very happy experience and felt connected with her neighbours, despite her illness. A lot of older people commented on how joyful it was to be with such polite young people and they praised the music, food and entertainment.
The children who had been encouraged to wear their national dress to school that day were really proud of their traditional foods and enjoyed sampling everything.
This event really brought the school and the wider community together – we hope to make this an annual summer event.
• Falcon Road Festival
We were delighted to be part of this popular annual event. We made delicious smoothies which the PTFA sold at their stall and we offered garden tours to visitors. Our friends from the charity South Island workshop came along and offered free weaving and paper making activities (so kind!).
This was a great opportunity to bring local people into the gardens who might not have a direct connection to the school. As a result we had even more offers of help with the gardening. Many commented on how they had been observing the garden grow over the year through the fence at the back of the school and were really keen to be involved in the garden's future development.
July and August
• Summer Holiday Garden Sessions
We opened the Secret Garden every Thursday afternoon throughout the summer holidays. Families from the school and the local area dropped by, along with adults who lived on the estate or were simply passing by. They helped with gardening tasks and took part in art activities run by South Island Workshop. There was also the opportunity to make healthy snacks: the "Oatcake Challenge" where children and adults created their own combinations of fruit and vegetable topping (many picked from the garden) on an oatcake. The children especially enjoyed coming up with their own recipes and there were some weird and wonderful combinations!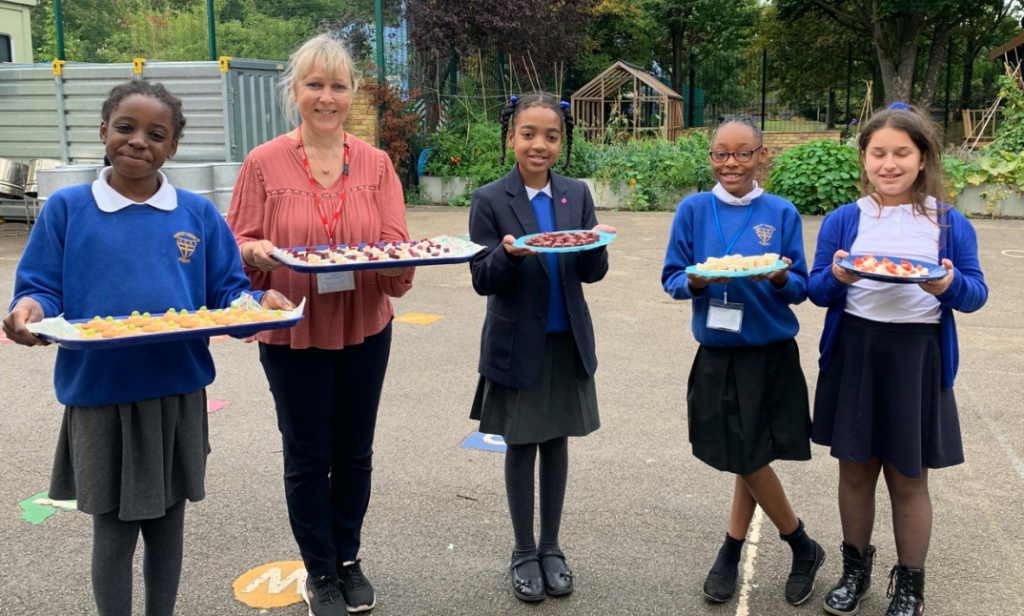 Visitors could also take a bit of the garden home with them by planting their own patio pots. Amongst the seeds planted were salad leaves, spinach, basil, coriander, sunflowers and tomato. We've had some great feedback on this initiative once the seeds had started to grow – one mother described the delight in her children's faces as they checked the growth of their sunflower every day and another said that they had had amazing success with growing lettuce.
Participants of all ages really enjoyed these sessions and many came back for at least two visits. The parents were able to relax and found the gardening tasks a good way to switch off. The children were constantly occupied and enjoyed being outdoors and doing activities away from a computer or TV screen. And parents commented on how much more fruit and vegetables the children (and they) were eating and trying for the first time through making their oatcake toppings. The sessions meant that the garden was regularly watered and maintained, and any ripe fruit and vegetables were either eaten during the session or taken home by visitors so we were able to reduce waste and provide some free food (great for families on low income). Visitors to the garden enjoyed getting to know each other and it was a relaxed way for parents to share experiences with each other.
September
• The official Launch of the School's Bee Kind Garden
After many months of hard work by our designer Cleve, horticultural organisations and contractors, pupils, staff and community volunteers the new garden space was complete. We held an event to celebrate and invited all of those people who had helped us both financially and in kind. Despite the intermittent rain showers everyone had a great time and loved seeing the new garden. Entertainment was provided by the school's steel pan band and healthy snacks using produce from the garden where enjoyed by the guests.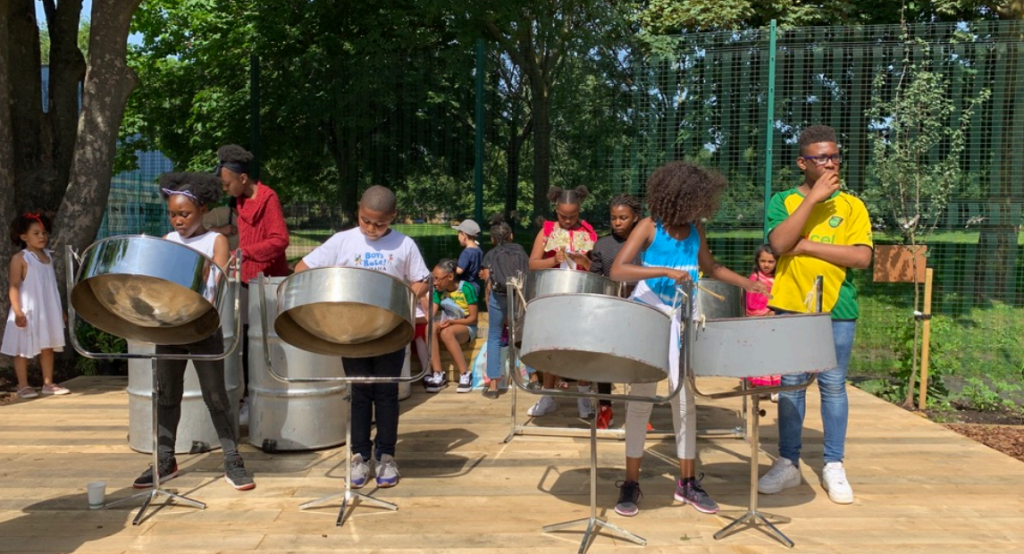 What we have achieved through Big Local funding
The project has been a success on many levels. We have:
• A new Garden!
The school and the local community now have a brand new garden to enjoy. This new space will increase the yield of produce enormously. This will be used by the families and the school and community and will help with the promotion of healthy eating and support families on low income. During school time more pupils will benefit from being in the garden and the outdoor theatre will provide a new, fun venue for learning and entertainment.
• Garden Volunteers
One of our aims at the start of the year was to build a team of volunteers to help with the garden as we need constant support in maintaining it. We now have a core team of 7 regular garden volunteers and the number continues to grow. The group consists of parents and local residents who are keen to help nurture the gardens and develop their gardening skills. They all find being in the garden satisfying and relaxing. They are making new friendships and are delighted to share in some of the produce that they have helped to grow.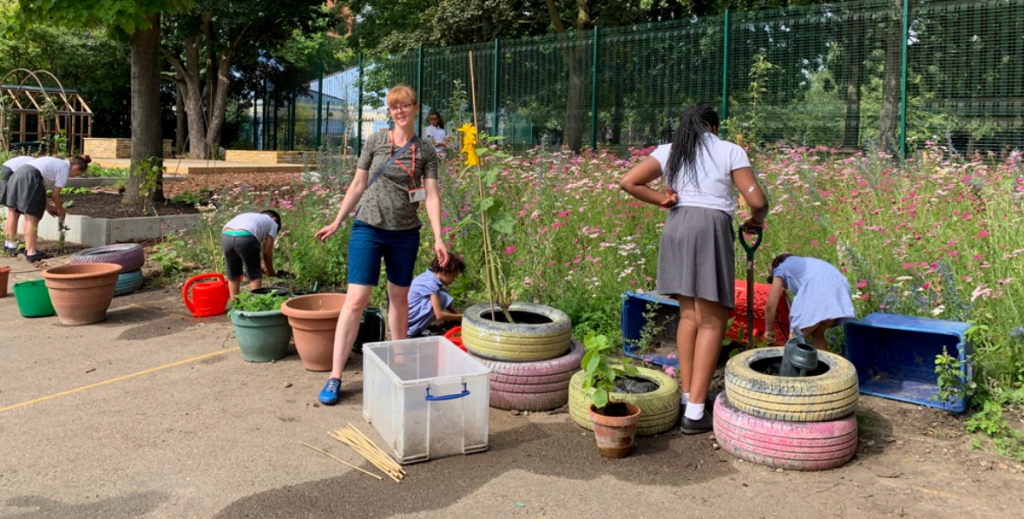 • New Skills
Many of our volunteers have learnt new gardening skills which they will be able to apply to other projects and even to furthering their employment skills. We are delighted that one of the parents who was one of the first garden volunteers we gave training and support to has been offered a job which she feels she wouldn't have got if it hadn't been for taking part in gardening at Christ Church school. In her own words: "I have recently accepted a job offer with The Conservation Volunteers to work on an allotment with young people on reparation orders and families growing food. I never would have got this job if not for the invaluable experience I have gained from Christchurch school – which has mainly consisted of me watching & learning from all the teachers! When I first started doing a small bit of volunteering in The Secret Garden I never thought it would ultimately have such a positive effect on my career!"
• Improved Health and Wellbeing
The activities that we ran in the gardens all supported the development of health and wellbeing. We encouraged healthy eating through introducing visitors to the wealth of produce that we grow and inviting them to take some of it away to try it at home. We made suggestions for making healthy snacks, swapped recipe ideas and gave tips on growing their own fruit and vegetables in whatever space they had available.
There have been many studies on the benefits of the outdoors on mental health and we strongly endorse these findings. As soon as you walked into the garden there was a strong sense of well-being and many adults commented on how relaxing and meditative gardening was – many of the children instinctively knew this already and were always keen to get on with the weeding! Art activities also encouraged participants to slow down and take their time.
In today's hectic world people of all ages find it hard to get the opportunity to take some time out and forget about the stresses of the day. We found that the garden activities were particularly helpful for families with children who have ADHD and behavioural issues. It was a safe setting and the carers could relax and enjoy themselves while the children were kept busy. One mother commented that her son who has ADHD was so much more relaxed during these sessions and could focus for longer on the gardening and art tasks.
• Outdoor Learning
The pupils at Christ Church school gain so much from having the outdoor spaces as part of their education. Children especially those with behavioural problems are often more responsive to learning and better behaviour in the garden. The school will continue to develop its outdoor learning programme and share its knowledge through running training for education professionals.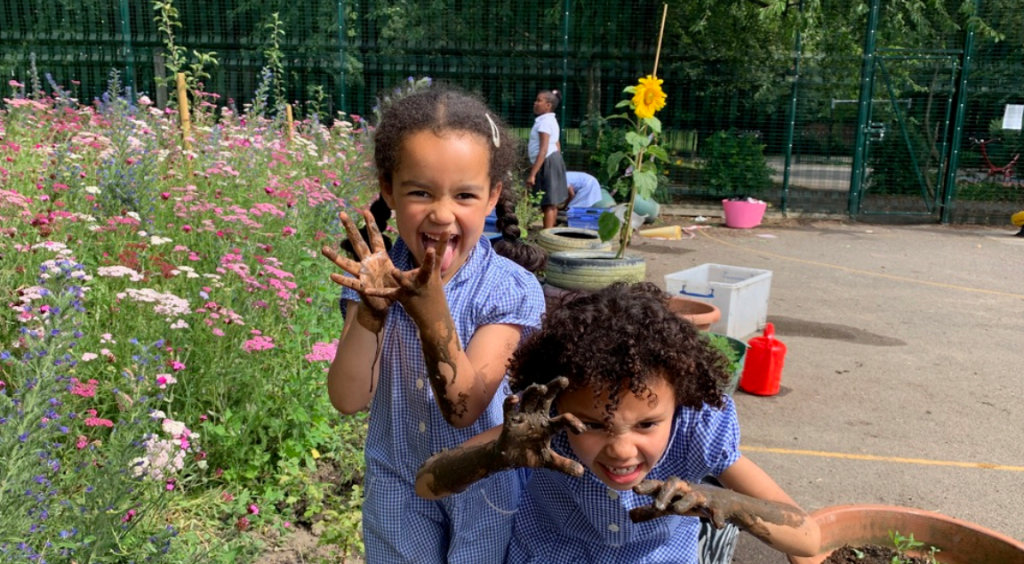 • A Growing Community
As the garden continues to develop, we have a sense that the community around it will continue to grow and flourish. The events that we ran brought people closer together and new friendships were forged. A large number of local residents don't speak English as a first language and we found that the events overcame this barrier through using the unique languages of food and gardening to communicate.
Families were able to spend time relaxing and having fun quality time together while at the same time working together to nurture the gardens. They were excited to take some produce home and children discussed recipes with parents taking more of an interest in what they were eating.
There was a sense of achievement and pride in the development of the garden.
We have created links with other schools and strengthened our connection with community organisations such as Providence House, Women of Wandsworth, 21 Katherine Low Settlement and the George Shearing Centre. We hope to continue to work with them to support their members and share our love of the garden spaces.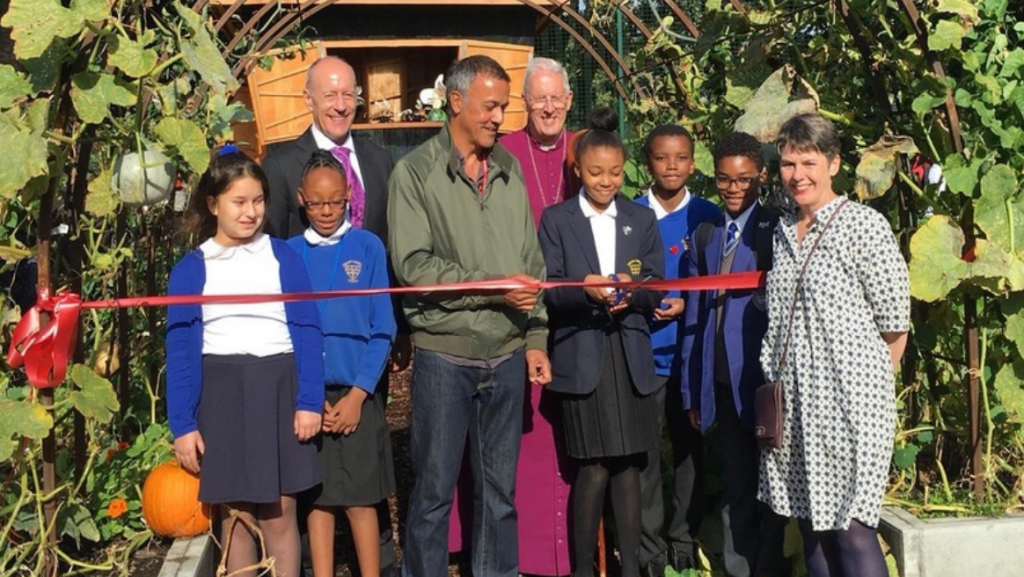 We would like to thank Big Local for their immense support in Growing our Garden and a Community around it.
S Perry & A Hursthouse November 2019