BigLocalSW11 – Quick Wins
BigLocalSW11 has set aside £1500 from its Getting Started budget to fund Quick Wins Grants.
Quick Wins Grants are for helping projects that can be set up quickly and be shown to active in the area, as sort of tester projects for BigLocal.
The Quick Wins Panel have awarded the following small grants during May and July:
A series of outings for the elderly during May half term, linking with local young people as an intergenerational project. They visited Hampton Court, Kew Gardens and took a boat trip to Greenwich.
Click Here to see Freddie's report
WOW Enterprise Club at Pennethorne House community room, a fortnightly meeting to help local mums and other residents in starting small businesses.(June-July 2013)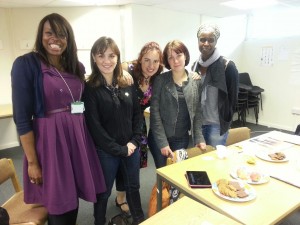 W.O.W  Enterprise Club  has been established in September 2012 to help lone parents set up their own businesses, but other people who are planning to do so are welcome as well. W.O.W Enterprise Club offers  help and support in this field by setting up  the perfect place for networking and discussing their business plan problems and needs with others in similar situation. It is a forum for the newly self-employed people, where they can bring any issues they might have in running the small business or problems they have  in setting up their small business. We  invite relevant speakers  to our Enterprise club to answer some of their questions. Our already self employed members are a perfect example of successful enterprises and could be the mentors to others.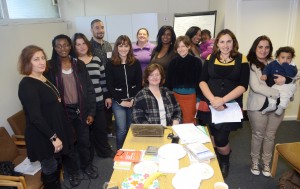 Sometimes the clubs speakers from Job centre Plus  to help with relevant topics like: information on Job Centre referrals to GLE, information on Enterprise Allowance (EA), financial implications of EA on their existing benefits, etc.
W.O.W Enterprise Club is working with our local  Councillors and MP, who are very supportive of our Enterprise Club and they  bring adequate people for networking and gathering requested information for our clients like: making a business plan, making S.W.O.T analysis for new businesses, marketing ideas, setting up a social enterprise, branding, setting up a charity, getting information on small business Tax obligations, information on acquiring UTR number and other legal responsibilities and obligations.
The WOW Enterprise Club workshops are on every second Friday of the month from 11am – 1pm in  200 Pennethorne House, Wye Street, SW11 2SH.
All welcome. Basic refreshments are provided.
Click here to see Senia's report
The weekly games club for children at Pennethorne House (July 2013) The Club is every Wednesday from 4 to 5 PM at The Pennethorne Club Room. It is free and all children are welcomed to attend.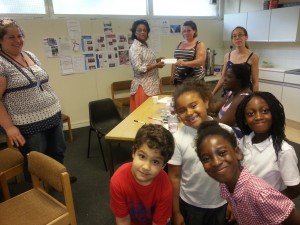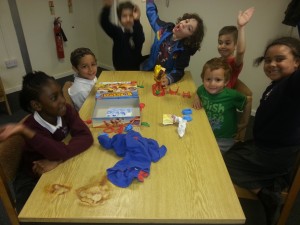 "Thank you for giving big local grant to the games club. The club can now have a yearly budget to match your grant and we can also do activities with kids. We have started with play dough making. All the volunteers are excited to be recognised in the community and have a new enthusiasm to build better community".
.
Constructing of mobile skateboard ramps for young people to be used around the area.
QW 4: Providing a small grant for St Peter's youth programme to purchase footballs. £90 awarded to St Peter's for the purchase of sports equipment for use with young people on Winstanley Estate.Community Football Outreach was launched (in partnership with Athletes In Action) 21st November 2012 with the aim of providing the local young people with a football workshop where they could enhance their football skills and also be able to learn some life skills.Each week we play two matches with a 5 minute break in the middle where we give a short talk about the topic of the day (team work, sharing etc).This took off very quickly with attendance rising from 9 young people in the second week to 18 in the third week. The average attendance is now 16 young people per week. The young people are really enthusiastic about our football outreach and are always in attendance even when the weather is bad.
QW 6: Supporting Birhan to run athletics coaching for young people over the summer months in York Gardens and Shillington Street Open Space. £400 awarded subject to reviewing Birhan's plan and schedule.
QW 5: Supporting publicity for an anti-dog mess campaign.
Tacit support was given to this project and £150 provisionally set aside to support it. However there are concerns expressed that this is too big a task for us to tackle with any meaningful impact.It was therefore agreed that Tessa Strickland who had proposed it be asked to come and discuss it further.